Seek the LORD and his strength;
seek his presence continually.
Psalm 105: 4
Do not be afraid— I am with you!
Isaiah 43: 5
You lead me beside quiet waters.
Psalm 23
When you pass through deep waters, I will be with you;
your troubles will not overwhelm you.
Isaiah 43:2
So do not worry about tomorrow;
it will have enough worries of its own.
There is no need to add to the troubles each day brings.
Matthew 6:34
O LORD, you have searched me and you know me.
Psalm 139:1
Let love be genuine
Romans 12:9
Do what is just, show constant love,
and walk humbly with God
Micah 6:8
Extend hospitality to strangers
Romans 12:13
For where two or three are gathered in my name,
I am there among them.
Matthew 18:20
I am overcome by sorrow;
strengthen me, as you have promised.
Psalm 119:28
Your word is a lamp to guide me
and a light for my path.
Psalm 119:105
Whenever I am anxious and worried,
you comfort me and make me glad.
Psalm 94:19
Welcome!
Click here for referendum & Reconciliation Resources
Churches Together SA supports the wider Christian community, by celebrating the oneness in our diversity,
and promoting ecumenical understanding as God's people
We journey together, exploring faith and life matters, growing in our friendship and spiritual life
through drawing on our Christian Scriptures and the teachings of Jesus.
We seek to express our spiritual understanding, through promoting justice,
seeking peace and living with compassionate care for all creation.
Matthew 18: 21-35 (NRSV) Then Peter came and said to him, "Lord, if another member of the church sins against me, how often should I forgive? As many as seven times?"  Jesus said to him, "Not seven times, but, I tell you, seventy-seven times. "For this reason, the...
read more
Want to support Churches Together SA?
Want to help the environment?
Buy a Churches Together SA Market Bag!
Only $5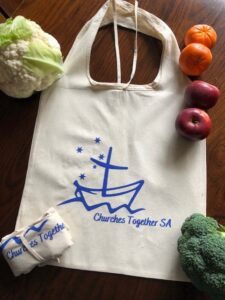 Collect bags from CTSA Office during office hours. 9am – 3:30pm Monday – Thursday.
If you would like to pay cash,
please contact admin@churchestogethersa.org.au
Churches Together SA acknowledge the traditional custodians who have cared for this land for centuries.
We pay respect to the Elders past, present and emerging across the many Nations of this Country.